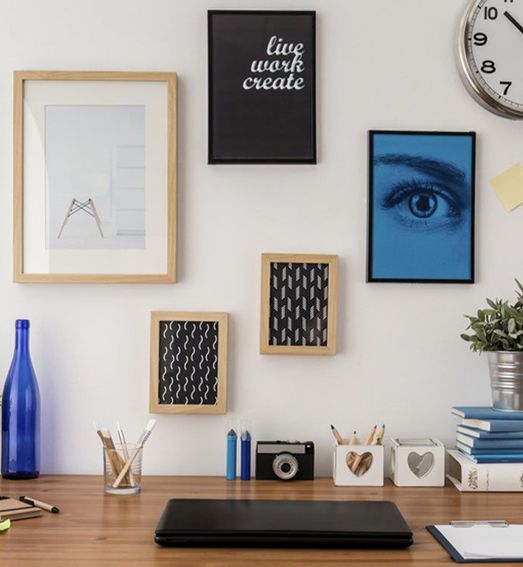 How to Decorate Your Workspace with Custom Picture Framing
Office space has a prominent role in enhancing the productivity of an individual. That is why reputed firms, leading entities, and multinational companies focus on designing the interiors elegantly. A positive workspace is pivotal in creating enthusiasm in the team. Custom picture framing is one of the most accepted ways of decorating workspaces.
For this very reason, design agencies providing workspace décor ideas have been thriving. A plethora of office space design and decoration concepts are available nowadays. The designs should reflect the company's optimistic spirit, goals, achievements, and employee- or client-oriented activities.
Here we are discussing how you can decorate your workspace with custom picture frames. Read on to obtain an insight into the picture framing ideas and the type of custom frame suitable for the workspaces.
Picture Frames for a Shared Work Space
A shared workspace can be decorated with artwork, logos, captions, ads, and certificates of achievement for your own company. These would not only boost employee morale but also promote your company to visitors in a subtle way. Your company's design patterns, logos, and fonts can be used while designing custom picture frames.
Do you want expert guidance in this regard?
No issues at all. Shoot your queries and doubts at us. Our professionals are always at your service. Custom picture framing of the following would be apt for decorating your shared workspace.
Logos, Marketing Material, Exclusive Designs
You want to add more clients constantly. Pitching your products, exclusive services, and achievements since the establishment is the right way to gain quick attention. Those elements would leave an impression on the client about your firm. Consequently, you may not have to explain much. Use custom-designed picture frames effectively.
Posters and Designs
Motivational posters, quotes in elegant picture frames, thought-provoking posters, etc. can be another great idea for decorating your workspace. You can find boundless options for posters and designs. However, ensure that the posters complement the business concept, product, or service your firm offers.
Artifacts and artwork
Artworks and artefacts are neutral concepts for workspace interior decoration. Selecting the right artwork is very important. Consult an interior designer or an expert picture framer from your region to choose one for your workspace. It should be neither dull nor too showy.
How to Decorate Your Personal Workspace with Custom Picture Framing?
Personal workspace décor is entirely different from a shared workspace plan. The decorative pieces installed in a shared space focus on a group of employees. You need to consider their diverse views and perceptions whilst custom-designing the picture frames.
Points to ponder when you decorate your personal workspace with custom picture framing:
The design, style, and pattern of your personal workspace décor will depend solely on your choices. Asking too many questions about the kind of custom picture frames can create confusion. Drop us a message or connect with us if you want expert support.
Avoid distractive designs like too many colours or patterns. A soothing design with minimal design aspects might be ideal.
Search and get creative ideas to make your personal workspace unique, elegant, and attractive.
You may keep the clients and visitors in mind as well during the design process. The custom picture framing in the workspace should create an impression of you. so that you can start the discussion, meeting, or product pitch on a positive note.
Checking out 3D designs of different workspace ideas would give you a clear view of how they would look. You can finalise the designs, custom picture frames, etc., after examining and comparing the 3D views of the space.
What are the Benefits of Decorating Your Workspace with Custom Picture Framing?
There is no second opinion about decorating your workspace with custom picture framing. The appearance, elegance, positivity, and aesthetic appeal of the workspace are going to improve with the right kind of customised frames.
The following are the benefits:
Increase the productivity of the team: a bright and motivating environment is necessary for every organization. A dull workspace can generate negativity in employees' minds, leading to a lacklustre performance. In turn, the growth, development, and overall production of the company will be affected.
Create an Impressive Space: A well-decorated workspace would create an impression not only on the employees but also on the visitors, including clients and partner organizations. With this, you can exhibit your attitude towards the firm.
Reflect on the Love You Have for the Company: A custom-designed office space or workspace is indicative of your love for the firm. Simply imagine visiting an unkempt office or a workspace without any décor. You can understand how it feels and what image it creates of the owner, management, and employees.
There are multiple options for making your workspace truly personal: With a wide variety of custom picture framing and design options available, you don't have to copy anyone else. You can discuss this with a specialist picture framer in your region and discuss your concepts regarding the workspace. They would be able to offer you excellent custom picture framing ideas.
For more info on custom picture frames for workspace, discussing the budget for customized framing and other aspects regarding picture frames, contact us now.