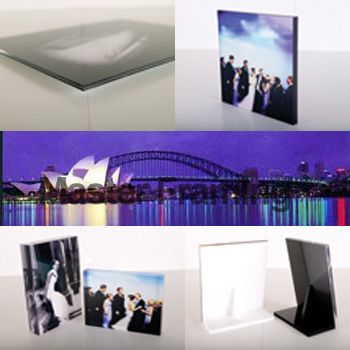 Acrylic Float frames
These are the classic acrylic wall panels – frameless, stylish and offset or floating off the wall. They come ready to hang with a sturdy hidden backing frame. Acrylic Float Frames are a great alternative to framing. They have that classic modern look, with brilliant colours from the acrylic and nice spatial effects from the offset. Edges are diamond polished to a sparkle adding fine detail.
A specially constructed hidden metal frame attaches to the back of our Acrylic Float Frames giving the acrylic its strength and is the means of hanging. We supply a hanging bracket that mates to the frame. Hanging with this system is simple and secure.
Acrylic Float Frames make a great alternative to traditional framing if you want a classic contemporary look. The frameless floating effect is timeless and have great applications in home, office or in galleries and art spaces. They are robust and are not prone to breakage in shipping and transport.
Acrylic Float Frames comes in 3mm, 6mm and 10mm. They come standard with a hanging bracket, but other alternatives such as D Rings are available.