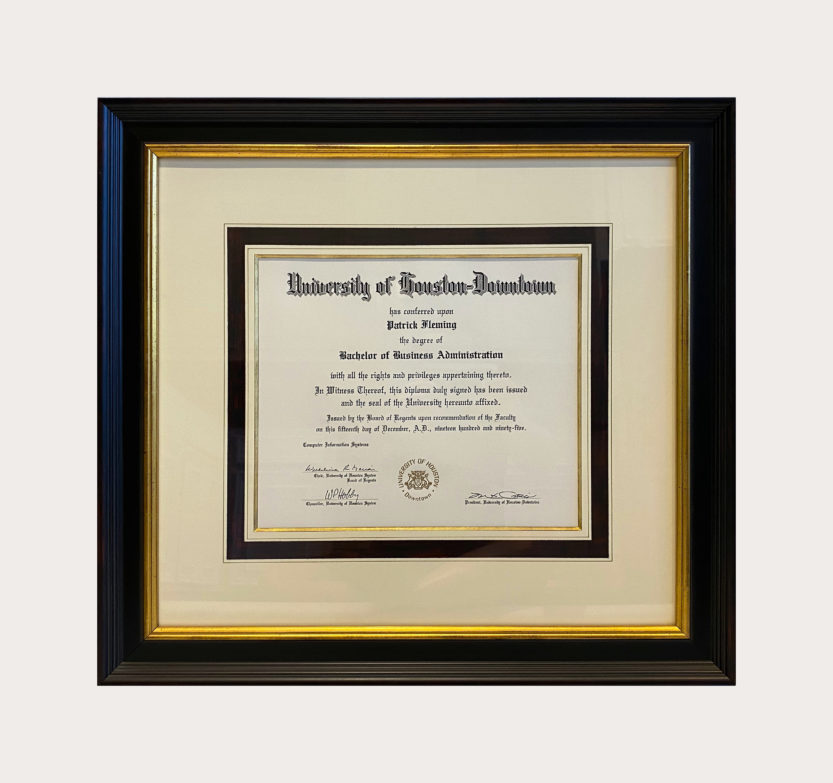 Certificate Framing and Design
Most people want a classic look for their diplomas. Classic doesn't have to mean boring though. Liven up traditional finishes with interesting profiles. Even a "basic black" finish is more interesting with some detailing or undertones in its finish.
School colours are a popular choice in matting, but some colour combinations can be distracting on what is basically black-and-white art. Present a more neutral top mat with school colours beneath as the smaller accents. They will certainly age better.
For professionals such as a doctors or lawyers, there may be certifications that go along with the diploma, and new ones are added with new qualifications. Matching the framing years later can be a challenge as mats and mouldings are discontinued. Instead of matching everything exactly, choose a theme. For instance, wood with red tones, cream or white mats to match the paper and a black accent. With these criteria, many different frame and mat combinations can be used that all coordinate, and future frames can easily be designed to fit in.
Dark mats, especially in fabric, can be a rich and dramatic choice for diplomas, but they can enhance reflections under glass. Museum Glass® is the perfect choice to allow the best display of your hard-earned diploma with no distracting reflections.
Certificate Frames can be a thoughtful present from a proud parent or grandparent. If you are unsure of which frames and mats to chose for them, a gift certificate for framing is another great option.