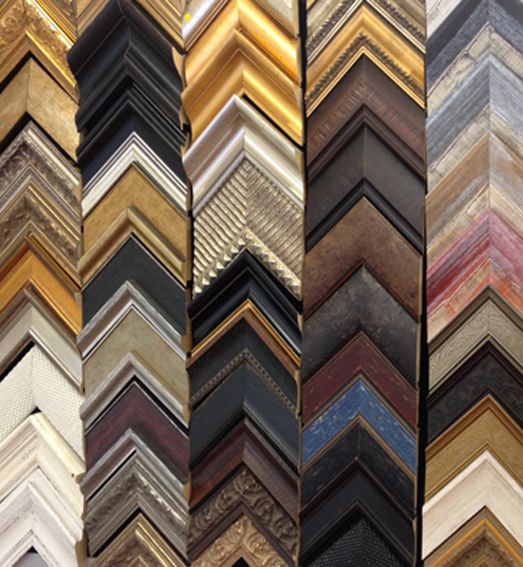 Tips for Choosing The Right Frame
A frame should enhance the beauty of an artwork. Choosing the right frame requires careful thought and consideration of the options available. The aesthetics of a frame can depend on various factors.
In this blog, we take a look at various elements to consider in choosing the right frame.
Frame according to artwork:
The artwork and its frame must complement each other. You don't want the frame to become the dominant feature and draw your eye away from the artwork. Instead, the frame should help bring focus to the colours and features of an image that you wish to accentuate.
Different kinds of artworks are produced using different media and different techniques. These techniques can also have an impact on the frame chosen. Take a look at how frame choice may differ depending on the materials used:
Art Prints:
Art prints are one of the most affordable and accessible forms of artwork used to adorn a wall. The dominant colour of the artwork can be reflected in the frame or matboard colour, which will make the work pop.
Drawings and Illustrations:
Drawings and illustrations are mostly done using graphite, charcoal, or pastel. This makes them fall into the category of fragile forms of art. It requires a protective type of frame, which will help preserve the artwork for a long time. Framing with a matboard provides an intermediary between the glass and the artwork, helping conserve delicate artworks.
Oil Paintings:
Oil painting comes with the use of a thick paste of paint, which can crack in time. Oil paintings are best framed with wooden frames and without glass. Glass over an oil painting can trap moisture, which can damage the artwork. Float frames, which provide a border around a canvas can be a good option as they do not cover the edge and do not require glass.
The work's history
If the artwork has a historical context, then it can be of significance when choosing a frame. You may want to frame pictures of historical relevance with consideration for the period in which they were made.
References can be taken from galleries or curators who have come across the artwork. Taking a keen interest in such facts can enhance the authenticity of the painting.
The location of the artwork
The location where the artwork is going to hang also plays a major factor when deciding on the frame. The right frame should not be just one that complements the picture but should also work well within the setting. A monochrome setting may require a black or white frame; if the space gives off a rustic and natural feel, then enhancing your piece with a wooden or weathered looking frames may work best. If the wall you are hanging on is narrow, then opting for a portrait frame would be fitting; if it's a wide wall, then a landscape frame will fill the space better.
Preservation
It is not always about the aesthetics of the space. Preservation of the artwork is also a necessity. Artworks such as drawings, pastels and illustrations are fragile and need a good protective casing to preserve them. UV rays can cause fading of colours in an artwork. So, if placing the artwork in a sunlit area, it is important to choose a conservation glass that will protect against UV rays.
Experimentation
One can also choose to move away from more traditional styles of framing and select something more contemporary. Clear acrylic frames can be a great option. Acrylic frames are versatile and you don't have to worry about any colours clashing with the surroundings.
Frames aren't mandatory!
Frames are necessary for articles that are delicate and fragile. Important works on paper and other delicate media must be protected from deterioration over time. Sometimes a frame isn't necessary. If you have a stretched canvas or a poster mounted on a sturdy backing, you may be happy to leave it as it is.
Framing an artwork requires a lot of time and precision. A good frame not only protects the work but also allows it to stand out and be the masterpiece of wherever it is displayed.