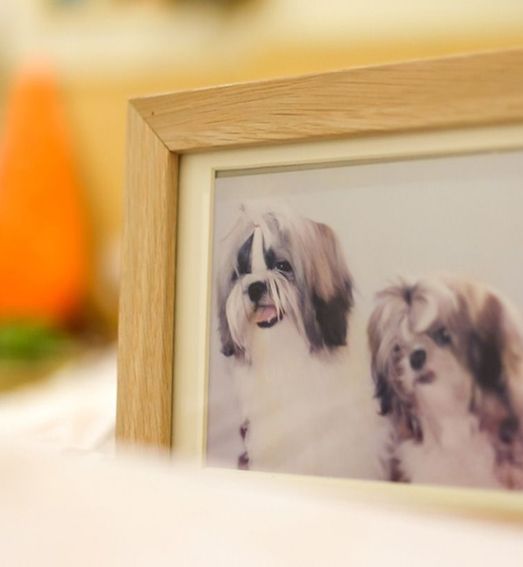 Creative Ways to Frame Your Pet Photos
Pets are the life of the home. It is so glad that we have furry and non-furry friends around us to make this world a better place to live in. The most exclusive part of being a pet parent is documenting every nuance and life of our pets in photographs and videos and sharing them with our loved ones. When they surprise you with unique poses and cuteness you weren't expecting, it's something that needs to be shown off and loved on the walls of your home or wherever you think it belongs. Here are some awesome ideas and creative ways to frame your pet's photos.
Colourful and Peppy frames
Our pets are full of life, and they deserve to be a standout even on the walls. Their energy is something we all have, and it is necessary to display the same vibe on the wall or even your bedroom stand. Losing the traditional black frames and going for the endless other colour options is the best way to do so. It gives the same pop-up energy as your pet's joyful bouncing, even if it's the hundredth time they've seen you all day. Choosing festive colours and dressing up in festive attire is one way to get a cohesive display on the walls. And make sure to place them upfront to get everyone's attention on the wall.
Ornate Frames
Ornate frames are going to definitely create a luxe and regal feel for your pet's picture. And this is the most cost-effective way to give them and the walls a luxurious appearance. The gold and glossy frames with a few intricate details can help the pictures or paintings of your pet babies look timeless, artsy, and, above all, have an antique and rusty touch. Printing them up and placing them on an ornate floating frame can help you achieve the looks they deserve. Getting a frame to place on a wooden stand or table is going to make it superficially elegant.
Fine Artsy
Why do you want to be boring and always focused on hanging up photographs? Painting your pet with brush strokes and attention to detail with the help of experts is such an efficient thing to do. Why limit their beauty to just photos when you can just get others to experience their heavenly beauty through real-life look-alike paintings? All you need is a good black frame and a white matted background for the picture. The wall will eventually transform into a classic realm adorned with eternal happiness.
Party Pet
It's true that they need friends, and asking them and the pet owners! to come once a year for a killer party will help you get your pet's weirdness out in the open. Party shots are an exclusive way to get a professional photoshoot done. These can be placed in colourful frames or even white frames and are definitely going to make us laugh every time we pass through them. Help add in all the silly accessories to spice up the photos, such as party hats, pool shots, water toys, and so on.
Pets turned artists
It would definitely be good fun if you could actually pet babies as part of the wall frames. Yes, won't it be good to take a different route altogether than the normal, old-fashioned photo hangings? And involving them is another fun element. Thinking about it? Get some pet friendly, non-toxic paint and dip their paws to imprint them on a canvas. You can go ahead and show off your artistic capabilities by making the paw prints extra jazzy! Showcasing them on a canvas floater frame is the best way to personalise them.
More Candid Fun
Yes, it is a good idea for getting your pet portraits and assembling them on a wall. However, it can be more fun if you get some candid shots of them, which will help you remember the moment every time you walk past it. Furthermore, candid photographs of your pets are far easier to obtain than portrait photographs. These photographs can be put in customised frames or a contrast-coloured frame on your wall, which can definitely make them stand out.
Let's collage
Now, it is quite a difficult task to choose what should go on the wall and what should not, when it comes to the insane gallery of photographs of your pet buddies. Getting them into a collage is the best way to display all of the great photos in one frame. Collaging photos is one way to spice up the wall and make it a pet-centric one. Let us bring in "n" special photos, all squished together, and make it one big heart of love.
Shadow Box Frames
This can be quite a teary-eyed one. It's extremely hard to lose one's true companion, and we look for all possible ways to make them part of our lives. Shadowbox frames are the answer to that. Every little thing that has run down over the years can become a part of the shadowbox frame. From the collars to the chew toys to a lock of fur, anything and everything will help you honour your furry friend. It is made from a heavy duty acrylic material, which helps preserve the good memories intact for years to come.
It can also be a fun idea to infuse write ups and anecdotes in between the photographs on your gallery wall to add an extra dimension of quirkiness.
Now, don't waste time and get started curating the pet gallery wall!