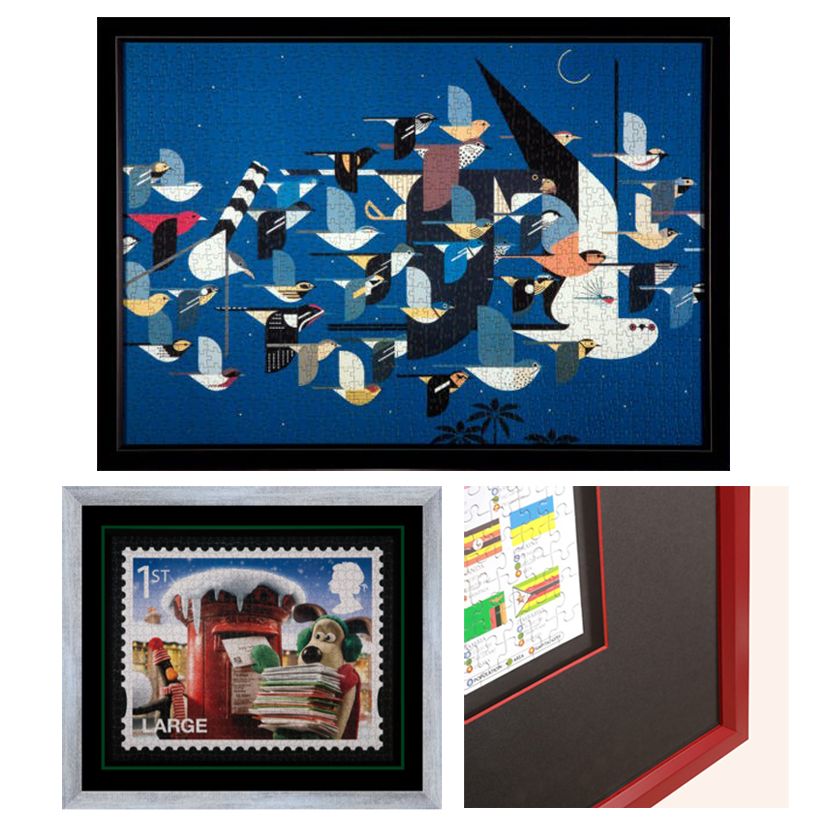 Framing Jigsaw Puzzles
Assembling jigsaw puzzles can be a relaxing and challenging pastime for families gathered at home, looking for new things to do with their time. This often leads to the question: "Do you frame puzzles?"
Framing puzzles is like framing anything else, from fine art, to sports jerseys. A well framed puzzle is another way of personalising your home décor with something you created yourself. Like many inexpensive art forms, a puzzle can be framed very basically with a simple moulding, or it can be treated with the maximum WOW presentation - incorporating multiple mats, and layered frames. It all depends on whether you are prepared to invest a bit more for a finished design appearance.
You may only require a simple frame and glass, but don't shy away from reaching for a moulding that offers a bit more pizzazz and fun to the design. Puzzlers have fun doing puzzles and so the presentation should reflect that same mood!
It is also worth considering which glass to use. Conservation and museum glass options will reduce the potential fading of your puzzle. After all, you still want your framed piece to retain its original colour for years to come.
Transporting Puzzles
We ask our customers to bring the puzzle to us laying on a sturdy piece of board. Some puzzlers will use the commercially made rolls or folding boards for transport, but getting the puzzle to the shop in one piece is the key. Once in the shop, the puzzle can be flipped and dry mounted to adhesive foam-core board. We can then go about adding the frame and matboards.
Although many of us like to use a sealant such as Modge Podge or Puzzle Saver brushed on the surface, it is preferable to keep the puzzle as clean and clear as originally assembled. These craft store products will work to adhere but they sometimes will produce a slight "haze" over the surface of the printed surface. Also, any adhesive coating applied to the surface makes the task of dry mounting your puzzle a little trickier.
Happy Puzzling!