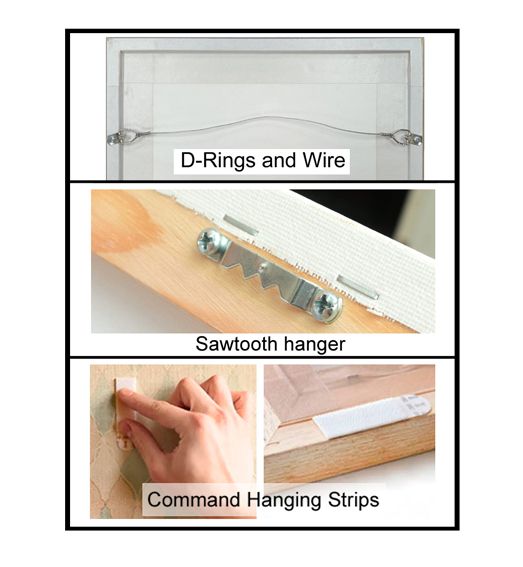 Keeping Picture Frames Straight
A crooked picture frame on the wall is one of life's greatest annoyances, especially if you're a bit of a perfectionist. You've selected the best picture frame for your art and made sure that you've hung the frame in the right spot; you don't want to be constantly nudging one corner to make sure it's level. Instead of adjusting and readjusting your picture frames, put a stop to those slants and tilts with a few tips from the pros.
Use the Right Hanging Kit
Start off on the right picture framing foot with the right hanging kit. Sawtooth hanging kits are easy to use, but when used improperly, these hangers often lead to crooked picture frames — or even broken ones, once they've failed and fallen on the floor. Only use sawtooth hangers on picture frames that are light and relatively small — less than 30 centimetres at its longest side — to ensure that the picture frames stay straight and on the wall.
Use Two Hooks, Not One
When hanging picture frames, many people will use just one nail or hook to hang the wire on — but this is where the problem starts. Using only one nail or hanging hook makes it far easier for the picture frame to slide around. In order to keep picture frames from moving on the walls, use two nails or hooks to which you attach the hanging wire; if you're using a sawtooth hanger, opt to use two instead of one to ensure that the frame is straight.
Don't Leave Too Much Slack
Too much wire gives your picture frame that much more opportunity to move around. The hanging wire should be just the right length for your picture frame and two hooks — too long and it will start to tilt (either to the side or forward), while too short a wire can damage the frame and its contents due to the tension. With the wire, you should create a nearly straight line across the frame but not so tight there is tension on the edges of the frame.
Use Wall Bumpers
Wall bumpers, which are small, circular rubber or felt buttons with an adhesive back, stick to the back of the frame's corners to protect the wall from damage. But the bumpers do more than that; they also help keep the frame steady, preventing it from sliding around. Alternatively, the Command picture hanging Velcro-style removable strips can help to fix the bottom corners of your frame into position.
Anything from bumping into the wall to slamming a door can cause a picture frame to slip and start tilting to one side — but it doesn't have to, provided you've taken a few simple steps to ensure your picture frames stay straight.