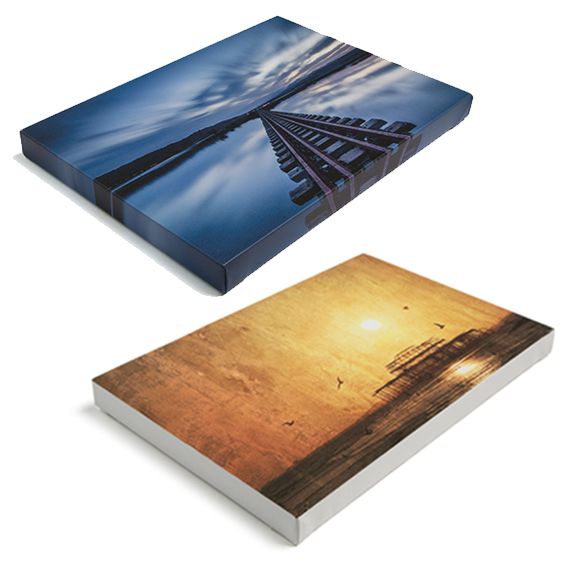 Common Questions About Canvas Prints
HOW MUCH DOES A CANVAS PRINT COST?
The cost of a canvas print largely depends on the size of the print. Smaller canvas print sizes cost as little at $50, whereas larger prints can cost up to $300. The cost of stretching the canvas will then be added as well as the option of adding a frame. Please note that you will also have to add the shipping cost to the final total.
CAN YOU FRAME CANVAS PRINTS?
Canvas prints can be either framed or unframed, depending on your decor and preference for the room. The frames should be deep enough to contain the full depth of stretcher bar. Ordering a framed canvas print to begin with can be easier than trying to find the right size frame later on.
IS IT HARD TO HANG A CANVAS?
Hanging a canvas isn't hard if you follow instructions. They are generally lighter than other frames as they often do not contain glass which can be quite heavy. For wide, landscape style framed canvases it is advisable to hang them using two anchor points for balance.
WILL CANVAS FADE OVER TIME?
To help preserve your canvas prints for as long as possible, you'll want to keep all canvas prints out of direct sunlight. And if you really want your print to last, consider placing it behind a protective glass frame.
WHERE AND HOW TO ORDER CANVAS PRINTS
Ready to start printing? Simply follow the steps below to order your canvas prints. Visit our 'Canvas Printing & Stretching' section in the Products drop-down menu to get started.
Upload your image to be printed and input the size you would like it printed at. Your selected photo will appear in the box to the left of the design options.
Select whether you would like your canvas to be stretched over a stretcher bar (so you can hang it on your wall) or whether you would like the print only (which will be sent to you rolled up).
Select whether you would like the edges of your stretched canvas to be white or wrapped around (where the image is mirrored and wrapped around the side).
Select whether you would like to add a float frame and choose from the different options.
Now you are ready to Add to Cart and proceed to Checkout.