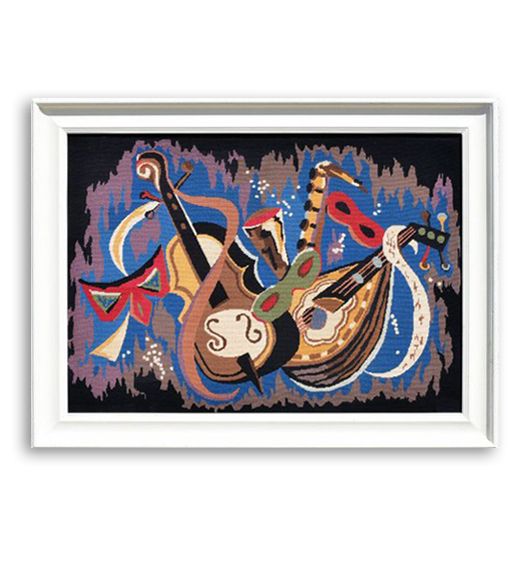 Tapestry Framing
Protect and display textile art large and small with professional tapestry framing.
Tapestries are designed to be hung up and displayed. But if you don't have an attractive frame for your tapestry, you may not like the way it looks on your wall. This is particularly true of smaller tapestries that don't cover the entire wall. However, larger tapestries can also be problematic as they may have an unfinished look if they are displayed without a frame.
Tips for Tapestry Framing
Here at Master Framing, we offer several different types of mounts for use in framing tapestries. Options include:
Frame without Glass: While a frame is useful for highlighting a tapestry and elevating it to textile art, you may not want to use glass in the frame. Without glass, you retain more of the texture of the tapestry. The trick is, without glass, tapestries must be carefully stretched and mounted on a backing in order to prevent sagging.
Floating Mount: If your tapestry has a fringe or other decorative edging on it, a floating mount makes an excellent choice for your tapestry framing. A floating mount leaves the edges of the tapestry visible rather than covering them with the frame. You can choose to float your tapestry between two pieces of plexiglass or use a mat as the background for the frame.
Archival Framing: For antique rugs and tapestries, or for newer pieces you wish to preserve and protect, archival framing is a must. Our experienced frame artists can recommend the appropriate museum-quality materials including acid-free mats and boards and UV protected glass and plexiglass.
We Create Custom Frames
Since tapestries tend to come in unusual sizes, a key part of tapestry framing is designing and building a custom frame. Master Framing have a huge range of frame moulding samples in our shops for you to consider when choosing your custom frames.
Mounting a tapestry in a frame is an excellent way to provide a clean, finished look to a piece of textile art, as well as protect it from dust, UV damage, and airborne pollutants. Master Framing has ample experience in tapestry framing and we can help you create the perfect frame for your needs.