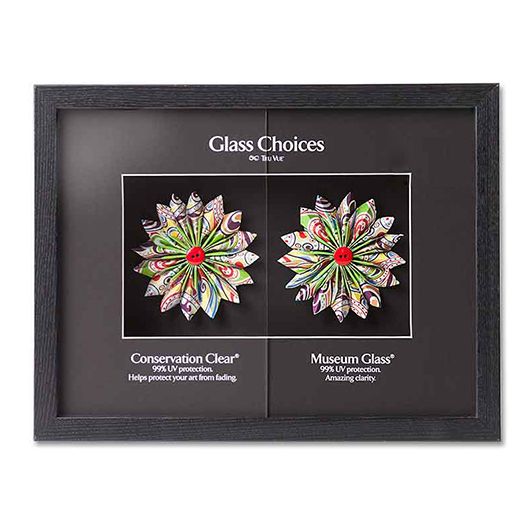 Types of Glazing
When you're designing a custom frame, or selecting a frame for your wall, the question that almost always pops up is: what picture framing glass type should you use? This is a short guide to the different types of glazing you can use in your custom frame – we hope it helps!


Acrylic
Offering excellent levels of optical clarity, acrylic is an excellent alternative to glass for use in picture frames. Unlike glass, acrylic is shatterproof so safe for use in all environments, it's also incredibly lightweight so easy to work with and install. Acrylic is lighter than glass, thus more affordable to ship. It also is more durable, which makes it ideal for frames ordered online. Glass is heavier and more fragile, but some people prefer it for the aesthetic, or because it's less susceptible to scratching. It can still shatter easily, though.
Standard glass
Standard picture framing glass is a 2mm clear float glass. It is relatively inexpensive and will protect your artwork from dust and physical damage. The downsides? It doesn't protect your artwork from harmful UV rays, and its shiny surface is highly reflective.


Non-reflective glass
Non-reflective picture framing glass has a matte, almost frosted quality to it. The non-reflective coating certainly does minimise glare, but if you're looking to protect your artwork from UV damage, non-reflective glass isn't going to cut it. Another consideration is that non-reflective glass loses clarity the further away it is from your artwork. So, if you're looking to create a football jumper frame or a custom frame with similar depth – non-reflective glass might not be for you.
Tru Vue UltraVue® UV70 Glass
This 2.0mm thick water white glass offers crystal clear colour transmission and a virtually invisible, anti-reflective surface for truly amazing clarity. Engineered by TruVue® with an ultra-thin optical coating over a water white substrate, UltraVue® has a nearly invisible finish that:
• Virtually eliminates reflection — so you see the artwork, not objects from the surrounding environment
• Provides the highest levels of brightness and contrast available in any glazing — revealing details you won't see with ordinary glass
• Delivers true colour rendition, so you'll see the true hues, intensity and values that the artist intended
• Blocks 70% of UV light


Conservation Clear glass
Conservation Clear picture framing glass is a clear glass that offers 99% UV protection. What does this mean? It means your artwork won't fade or discolour when the frame is exposed to light. Master Framing uses Conservation Clear to provide conservation-grade glazing that is also cost-effective. If you've got a delicate artwork you want to protect, Conservation Clear glass is a smart choice. Conservation clear glass is available in store.


Museum glass
Don't be put off by the name! Museum picture framing glass is not just for museums! If you've got an artwork that needs UV protection, Museum glass offers 99% UV protection. But it also offers an anti-glare coating that makes the glass surface almost invisible. Museum glass is great for when you're hanging your artwork in a light, bright space – you'll be amazed at how clearly you can view your masterpiece! Or if you have any artwork with lots of small details, Museum glass will help you see it all with perfect clarity. Museum glass is available in store.