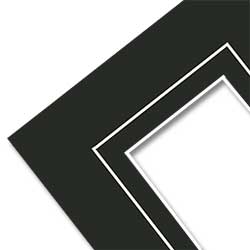 V-Grooves in Mat-boards
A V-groove is an optional thin line, or groove, cut into the surface of the top mat to generate additional focus or accent to your artwork. A V-Groove is not the bevelled edge of a mat opening.
The shallow cut across the mat exposes the core colour of the top mat. V-Grooves can be cream, white or black depending on the mat core colour. Multiple v-grooves can be added to a single mat-board. They offer additional flair without the need for multiple mat-boards. A V-groove adds style and creates a unique presentation of your artwork.