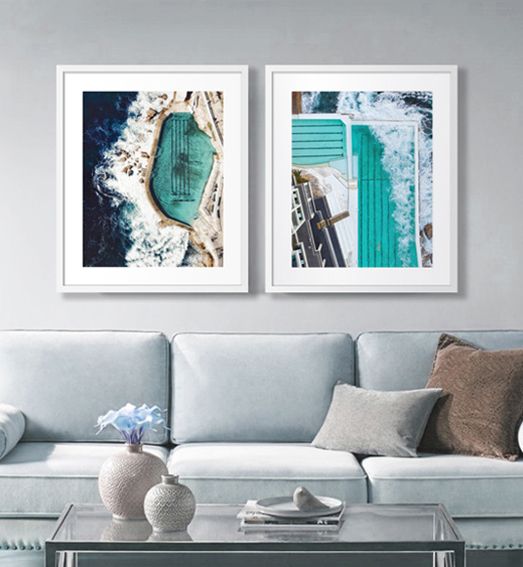 Framing with White Picture Frames
Coastal areas are perfect for soaking up the sun and relaxing with strolls on the beach or through inviting local shops full of regional treasures. Clean, bright, and breezy art is available from most coastal retailers and often the decor of choice for homes in these areas.
Sleek unassuming white picture frames are unmistakably perfect for framing coastal or nautical themed prints or artwork. Homeowners and professional artists alike are finding the versatility of white or light-coloured frames makes them perfect for other styles of art as well, notably for botanical or nature-based themes and art that exudes bright hues.
White picture frames are also the perfect contrast to everything from terra cotta tiles to modern decor and soft colour palettes to vivid photography and patterns.
White frames have proven to be versatile enough to achieve both a subtle complement and a stark contrast. For visitors to coastal areas, distressed white frames may simply be a fond reminder of the region visited as they mimic the appeal of driftwood near the ocean, but distressed styles which echo the timeless popularity of traditional wood frames are now seen as fitting for many different types of art and home decor.
This increase in the popularity for distressed white wood mouldings reflects an emerging desire to move away from minimalism and back to the richness of texture and interest in our surroundings. In addition to timelessness and texture, distressed mouldings can add a sense of authenticity and craftsmanship to their surroundings.
Tips on Mat Board Selections for White Frames
Mat board covers, protects, and enhances artwork and is part of a complete framing package that includes backing board, glass or acrylic glazing, and a picture frame. One of the misconceptions about using white mats with white picture frames is that they always have to match. This is a fallacy because tonal differences between the frame and mat board can actually create interest and enhance the artwork. As a general rule, black and white photographs, floral art, and artwork with heavy or bright saturated colours tend to look best with bright to neutral white mat boards. Sepia-toned photos, beach and/or autumn scenes, or any image with a strong yellow undertone usually calls for a warm, off-white, creamy, or yellowish mat board. Remember, the final choice is always up to you!
If you love the idea of a white frame, but aren't quite sure if the opaque white frame or the whitewash/distressed look is best for your art, browse various styles and design your own custom frame on our DIY picture framing page which also allows you to explore the different colour mat-boards and frames to best fit the tones and saturations of your art.