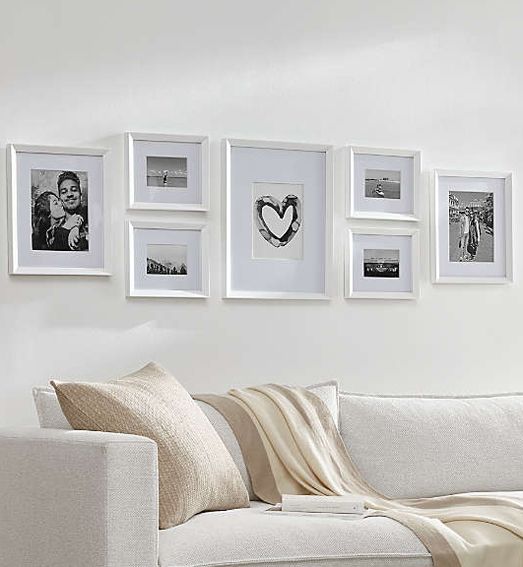 Ideas for Framing Black and White Photos
We all have those photos we wish we could print off our phone, computer or camera and display proudly. Printing your photos in black and white is a timeless, elegant choice. However, creative framing ideas for black and white photos can be difficult to find.
Keep it classic
If you're interested in a timeless choose a black picture frame with a white or off-white mat. A light-coloured neutral mat with a strong black frame can be a bold statement that draws attention to your art.
If you're looking to set a particular mood with your black and white photos, this may be a good bridge between traditional design and a more custom choice but still a classic look.
With this classic frame style, you can easily create a display showcasing all your favourite family memories or black and white art. Select matching frames and arrange them in a grid—or shake things up with mismatching sizes artistically splashed across a wall.
Because all the frames are neutral, you'll have more flexibility in shape and location for your gallery. It's your space, so be as creative as your heart desires!
Tie it in with your existing decor
When you're looking for framing inspiration for your black and white photos, don't forget to look around your home or space. Notice your current decor (shelves, art, knick-knacks, etc.) What themes do you see? Are there certain colours, styles, or materials you really love?
Since frames come in all shapes, sizes, colours, and styles it's generally easy to find ones that complement your home or family's style. For example, if your home has a more rustic feel, use a wood frame with a small mat or no mat. Or if your home features shelves or accents of a certain colour or wood finish, If your home is more modern, try a polished metal frame with a large, off-center mat.
Add a pop of colour
Often, people want to offset their black and white photos with a pop of colour. This can be done with a brightly coloured mat-board or frame. Choose a colour that will tie in well with its surrounds, such as furniture upholstery, curtains or cushions.
Final Thoughts on Framing Black and White Art
Whatever style or mood you're looking for, there's a frame and mat to match—so don't stuff your memories into a folder on your phone or computer or hide your work in a digital portfolio. With these framing ideas for black and white photos, you can turn your favourite moments or works of art into a beautiful display that will be cherished for years to come.