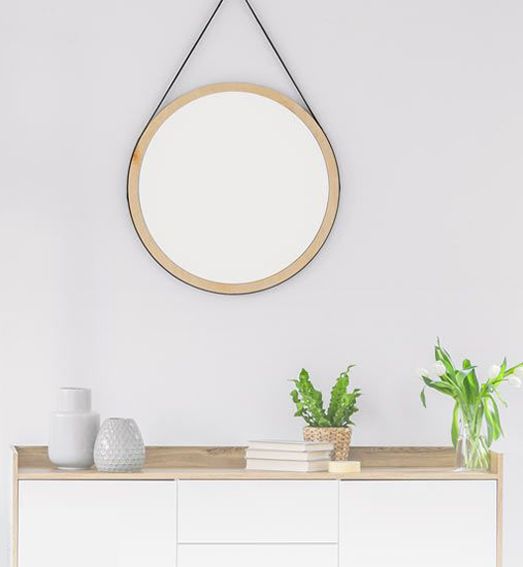 How to Choose the Right Mirrors for Your Walls
Mirrors on the wall are very appealing and one of the best ways to decorate your home. They have the standout ability to add that extra spark and vibrance to any space they adorn. Having said that, getting the right fit is an extremely important step, or it can be a complete misplacement and will look like an odd one out with your other interior accessories.
The blog tries to shed some light on different aspects that can be considered when you think about decorating your interior space with a mirror.
Shape
Mirrors are available in different shapes, and each shape can bring different kinds of inclinations and accentuations to the space it occupies. The first step to deciding on the shape will be to analyse what exactly you are trying to accomplish by placing the mirror on the wall. A DIY mirror can be seen in different sizes, Let us take a look at the different shapes:
Square mirrors are a common variant among the mirror types. By selecting this classic variant, you can try to encompass a timeless and understated look with the four-sided dimension. Square mirrors are the best fit-in options for any kind of backdrop. They can help draw attention to a specific corner or space, as well as give a much-needed twist to a display cabinet or console table.
Round mirrors are yet another classic and traditional shape that blends in with any kind of surroundings. Round mirrors can be kept as a focal point, where all the attention will go to the mirror.
Teardrop mirrors are unique style mirrors that are both simple and elegant. Teardrop mirrors, when placed on walls that are particularly short and cramped on space, can create the illusion of more space and length on the wall. This usually goes well with wooden decor.
Sunburst mirrors can be expressed as a statement piece, which adds to the intensity required for the interior decor. This radiant space can fill a blank or empty wall with exquisiteness and represent the 19th century. The decor around the mirror has to be simple so as to give that unique vibe exclusively to the mirror.
Size
The size of the mirror is a defining factor when it comes to choosing the right one for your space. An individual small mirror in a very large space can be odd to look at. The size of the mirror will depend on what you decide the mirror should look like; a focal point, an accent, or just a normal accessory.
If the mirror is considered to be a focal point, then it definitely should be large enough or extremely decorative to draw attention.
Smaller mirrors are well suited for the process of accentuating another piece of decor in the room, so they can be used to reflect light and throw focus on another piece. You can also fill in a wall with small-sized mirrors to add an extra vibe to the space.
If you want the mirrors to complement the background, get an extra large one. It will help your space look even bigger.
Choose the size based on the space you have selected to decorate.
Style
The style of the mirror chosen will strongly depend on the skills of your interior designer or on your own. There are many designs and styles in which you can get your mirrors. Understanding the vibe and design of the space and how the mirror complements other decor, if any, should be the first place to start with.
If you are looking for an ornate frame, it can add to the grandeur of the entire space. Ornate frames are usually considered showstoppers and can be available in both contemporary and traditional looks. They can look like a statement piece
Frameless mirrors are usually used as decor pieces in homes where there is a minimalist trend. It can simply blend in with that exclusive idea. They look sleek and modern.
Distressed-look frames are a fine element to add to the grandeur of the modern interiors of the home. It can give off a vibe of being eccentric.
Colour
Mirror frames can be customised in different colours. The usual wooden finish is to bring in that rustic look, which actually goes with and complements any kind of environment. But, if you are someone who likes to experiment with designs, the metal frames can go well with interiors that dig that colour or give off a modern look. If you are looking for a contemporary look, you can self-paint the frames with contrast colours.
Glass
Homeowners can opt for two kinds of mirror glasses. They can consider glasses that are flat-edged or bevelled. It all depends on the individual's taste. Bevelled glasses are considered unique and add to their elegance. Flat-edges are classic choices for walls.
Mirrors are no longer a piece that is used only in the dressing rooms of bedrooms. They have come a long way and are now an important piece of interior decor. People are experimenting with enhancing their spaces with the use of mirrors. Having the above tips in mind will help you choose the right one for your home. There are now options for customizable DIY mirrors in Sydney. Consider Master Framing for mirror framing in Sydney. They have many options for custom framing in Sydney.