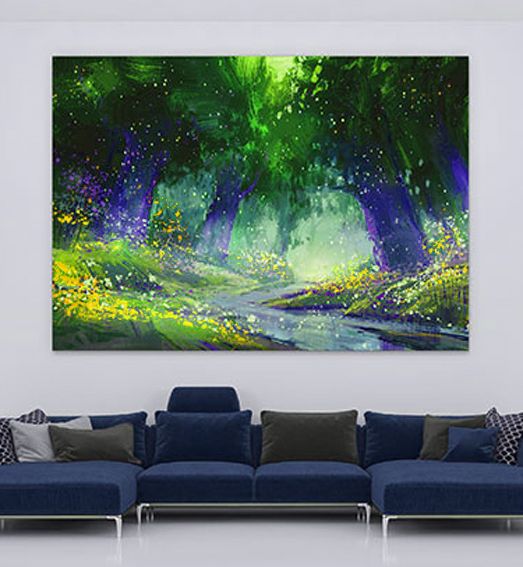 A Guide to Styling Oversized Art
Oversized art is significantly larger than the standard size. With the recent surge in popularity of oversized art and its distinctively bold appearance, it's no surprise that more designers and artists are embracing this concept. However, many don't know where to start when styling oversized art.
Whether you have a large wall space or just a small corner, styling oversized art on your walls can be done easily with these tips. From choosing the right art to matching it with other décor pieces, here are some styling tips that will take your large-scale wall decor from blah to wow!
What is oversized art?
Oversized art is simply artwork that is larger than what is considered to be the standard or traditional size. It can range from slightly larger pieces to significantly large statement pieces. Oversized art can make a big impact in any space and can be used to fill a large wall, create a focal point, or simply add interest to a room.
If you are looking for ways to add oversized art to your home, there are a few things to keep in mind. First, consider the scale of the piece in relation to the space it will be hung in. A large piece of art will obviously have a different impact in a small room than it would in a large, open-concept space. Second, think about the overall look you are trying to achieve. Oversized art can make a bold statement, so if you are going for a more subdued look, you may want to stick with smaller pieces. Lastly, don't forget about the practicalities of hanging oversized art – you will need to make sure that the piece is properly supported and that it is hung at the correct height (eye level is usually best).
Now that you know a little bit more about oversized art, why not get into the details? It's an easy way to add personality and style to any space!
How to Buy Oversized Art?
When it comes to oversized art, there are a few things you need to keep in mind in order to make sure you purchase the right piece for your home. Here is a guide on how to buy oversized art.
The first step is to know the dimensions of the wall or space where you want to hang the artwork. This will help you narrow down your search and find pieces that are the right size.
Next, you need to think about the style of artwork you want. Do you prefer abstract or realism? Modern or classic? Bright and bold or muted and calming? Once you know what style you're looking for, it will be easier to find pieces that fit your taste.
There are many places where you can buy oversized art, so take some time to shop around and compare prices. You may find that certain stores offer better deals than others.
Once you've found the perfect piece of oversized art, it's time to hang it up! Make sure you have all the necessary supplies beforehand, such as nails, hooks, or picture hanging wire. And don't forget to step back and admire your new artwork once it's up on display!
How to Style Oversized Art?
Oversized art can be a great way to make a statement in your home. But how do you style it so that it looks good? Here are some tips:
Pick the right piece: Not all oversized art is created equal. Make sure you pick a piece that you really love and that fits with the overall aesthetic of your home.
Hang it at the right height: Oversized art should be hung at eye level so that it's easy to enjoy.
Leave some space around it: Don't overcrowd your wall space with other things. Leave some breathing room around your artwork so that it can really stand out.
Think about lighting: Good lighting is essential for any type of artwork, but especially for oversized pieces. Make sure your artwork is well-lit so that it can really shine.
Styling Tips for Living Spaces with Large Pieces of Oversized Art
When it comes to oversized art, the key is to keep the rest of your living space simple and uncluttered. This way, the art will be the focal point of the room and won't get lost in a sea of other décor.
Here are some tips on how to style living spaces with large pieces of oversized art:
Hang the art at a level that will help create a more dramatic look and make the art the centre piece of the room.
Use clean, simple lines in your furniture and décor. This will help to complement the oversized art and not compete with it for attention.
Keep the colour palette neutral. Too many colours can be overwhelming, so stick to a few calming hues that won't take away from the beauty of the artwork.
Add texture to the room with rugs, pillows, or throws. This will add interest and depth to the space, making it more inviting and inviting guests to linger a while longer.
We hope you found our guide to styling oversized art helpful! As you can see, there are a few things to keep in mind when hanging large pieces, but it doesn't have to be difficult. With a little bit of planning and creativity, you can transform any space with oversized artwork. Don't be afraid to experiment and have fun with it!
If you have any questions or need help finding the perfect piece of art or custom picture framing for your home, our team of experts is always here to help. Send us a message or give us a call, and we will be happy to assist you.