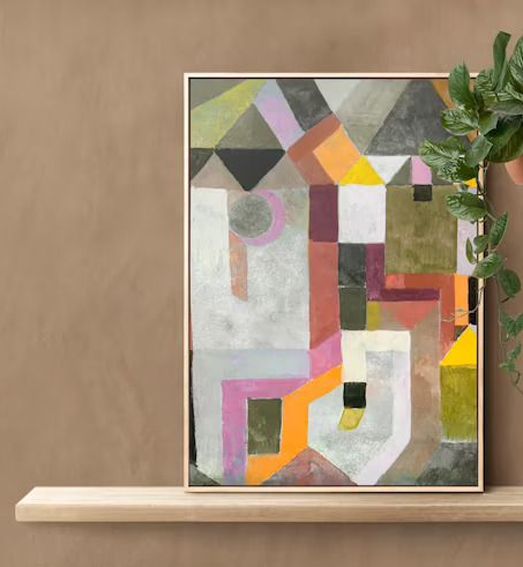 Individualise Your Rented Apartment with a Single Piece of Wall Art
It takes time to find the perfect home, but it doesn't have to be stressful! If you want to personalise your rented apartment or first home, one-piece wall art is the way to go. One-piece wall art not only gives your space a one-of-a-kind look, but it also makes it much easier to change decor themes as often as you like. You can easily switch up the walls in your entire home once you find the right set of wall art! If you said yes, this article is for you! Wall art is an inexpensive way to personalise and refresh your rented apartment. In this article, we'll go over the things you should think about when decorating your walls with one-piece wall art.
Design Suggestions
If you want to personalise your rented apartment without making permanent changes, one-piece wall art is the ideal solution. Here are a few design pointers to get you started:
Select artwork that reflects your personal taste. There's bound to be something out there that speaks to you, whether you prefer bold and vibrant prints or more subdued and calming pieces.
When choosing artwork, keep the size of your space in mind. In a small room, a large piece can make a big impact, whereas a smaller piece will get lost in a larger space.
Hang your artwork at eye level for maximum impact. This will help to ensure that it remains the focal point of the room and does not become lost among other décor items.
Make use of wall art to experiment with different colours and patterns. If you prefer more neutral tones, try incorporating some brighter hues into your space with your artwork selection. If you prefer more traditional décor, try something with a unique pattern or unexpected texture.
Don't be afraid to change things up from time to time. One of the best aspects of wall art is that you can easily change it out as your tastes change or you grow tired of looking at the same thing every day. So, experiment until you find the ideal arrangement for your space!
Materials for Wall Art
When it comes to personalising your rented apartment with one-piece wall art, you have a variety of materials to choose from. Traditional framed artwork, which is always a popular choice, is an option. However, if you want something a little different, there are a variety of other material options available.
Canvas wall art is a popular choice. This type of wall art is becoming increasingly popular due to its low cost and ease of installation. It also has a more casual appearance that is appropriate for an apartment setting.
Metal wall art can create an eye-catching focal point in any room. It's also quite durable, making it ideal for high-traffic apartments.
Wood wall art is another great option for renters looking to personalise their space. Wood wall art can be hung just like traditional framed artwork, but it has a more organic look that can add an earthy feel to your space.
Finally, if you really want to make a statement, large-scale vinyl wall graphics are an option. These are growing in popularity in apartments because they are simple to apply and remove and have a big impact in any space.
Considerations for the Budget
Consider purchasing one large piece of wall art to add a personal touch to your rented apartment without breaking the bank. This will not only have a significant impact on your space, but it is also a simple and relatively inexpensive way to update the look of your home.
When selecting artwork for your rental, keep your budget in mind. Instead of purchasing an original piece, you may want to consider picture framing or a reproduction.
Whatever path you choose, don't be afraid to get creative with one large piece of wall art to personalise your space. It's a simple way to make any rental feel more like home.
Additional Considerations
First, consider the artwork's size. You don't want anything that is either too big or too small for the space.
Second, consider the colours in the artwork. You should select something that complements your apartment's overall colour scheme.
You should think about the style of your rental apartment. You should choose contemporary artwork for a modern space. If the space is more traditional, you might want to go with something more traditional as well.
Consider the message you want to convey with your wall art. Do you want something motivational? Fun? Quirky? Whatever it is, make certain that your wall art reflects it.
Finally, make sure you choose a work of art that you adore! After all, it's your apartment, so pick something that makes you happy every time you look at it.
Finishing Up
Although there are numerous ways to personalise your rented apartment, one-piece wall art is arguably the most creative and cost-effective option. After all, that is what will truly make it yours. While you may believe that it is best to stick with the same piece of art each time you move into a new home, keep in mind that it is perfectly acceptable to experiment with different types of art on your walls! You can mix and match different pieces to find the best combination for your space this way. Remember that your wall art is an expression of your personal style. Don't be afraid to select something that reflects your own distinct style.